Cindy Alissa Yu — Animation Student based in Sheridan College
Lost and Found Children (WIP)
SHORT SYNOPSIS: Lost and Found Children is a story of twins Flynn and Nate Lockhart, as they return to their hometown after disappearing for seven years. Similarly, the twins' parents have also vanished on that fateful day. Cynical and dejected, those long years in waiting have convinced them their beloved mother and father won't be coming home – that they really are orphans… for good. However, something in this old city makes the twins realize there are some loose ends to this story… As they bring answers of their missing parents to light, they get pulled further and further into the darkness of magic, their family, and of human hearts.
LONG: In a world where steam power and electricity take center stage, magic has long lost its credibility and importance in the Medeis Republic for hundreds of years. However, in the present day, a string of inexplicable crimes and events have been showing up all over the country seventeen years ago. Twins Flynn and Nate Lockhart take a one way trip to their hometown via a scholarship in the city's greatest school, after them and their parents vanished off the map seven years ago. As mysterious as their disappearance is, the siblings realize the quest for their missing parents won't be an easy one. Reconnecting with old faces, creating unlikely friendships, and meeting enemies they were unaware they even had. Quickly realizing they are unwelcome, they seek to unravel the secrets of the city and its crimes, of magic, their family, and of human hearts. Along the way, they unearth more truths than they bargained for. This story focuses on family ties – ties that bond AND break, about being true to yourself, the difficulties of growing up, and life, death, and acceptance.
Set in the fictional country of Medeis, and takes place in an alternate late 1920s England with dieselpunk elements.
For

Personal Webcomic
Date

August 2008 – current
Role

Creator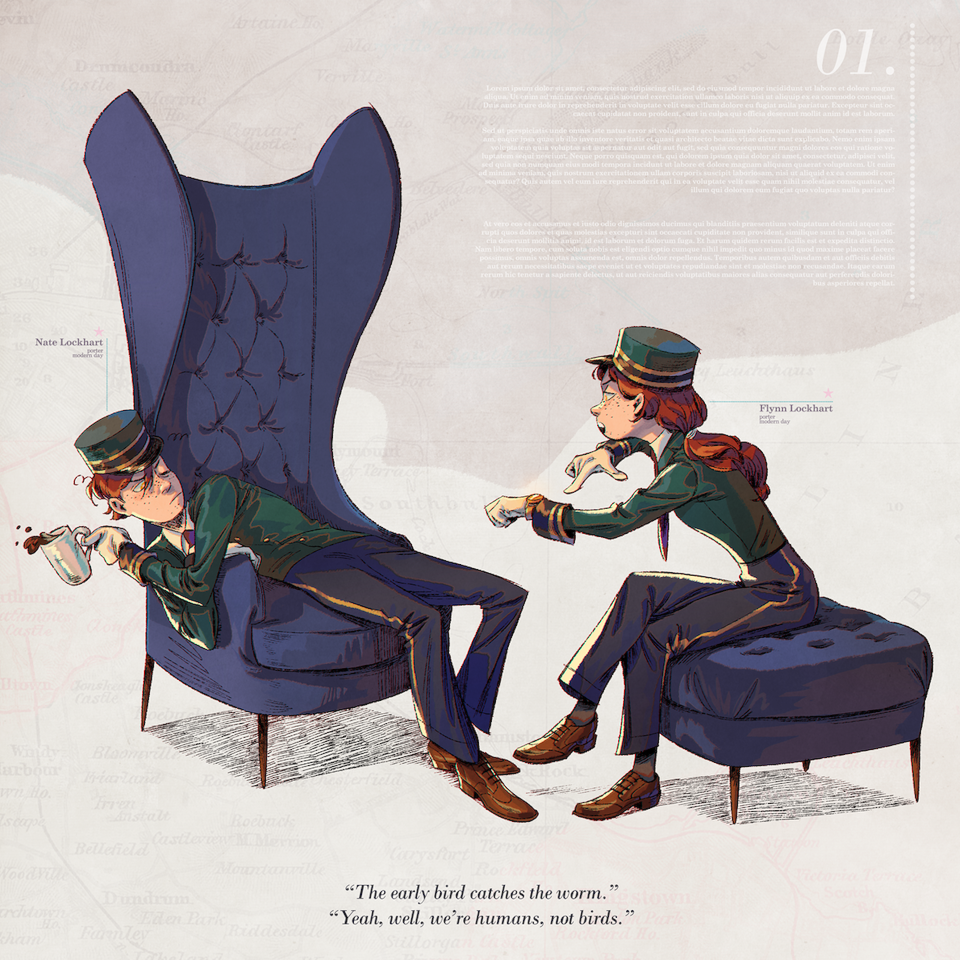 Jan 2019
Feb 2017
Apr 2018 (Medeian alphabet; letters have scrambled to avoid pre-spoiling the story)
Previous
Illustrations
Next
The Magician's Protegee (WIP)